Severe injury and fatality from dropped objects – even something as small as a wrench socket – are all too common, resulting in thousands of injuries, hundreds of deaths, hundreds of millions in total costs (and who knows how many close calls) every year. To date, there have been 45,940 injuries reported from falling objects or equipment; resulting in 5.2% of all workplace injuries. 237 fatalities have been recorded, representing 47% of all 'struck by' incidents and 4.6% of all workplace fatalities. And at $1.45M average cost per fatal accident (multiplied by 237 fatalities), the total bill for dropped objects comes to at least $344,000,000.
While preventing people from falling at heights has (thankfully) become standard practice, drops prevention for the tools and equipment they take to heights has been a relatively recent movement.

Typically, the potential dangers of falling objects at job sites are addressed with passive engineering controls like toe boards, netting, barricades and the like. But active controls like those called out in the forthcoming dropped objects standard are much less common.
For those working at heights, remembering the types of equipment needed to protect workers is as easy as ABC (Anchorage, Body Wear and Connecting Device).

In dropped object prevention, the "3 T's" are used to categorize the active engineering controls one can easily implement to prevent falling objects on the job. So let's take a closer look.
Introducing the 3T's: Trapping, Tethering, Topping…
Trapping
Trapping is a term used to describe the installation of retrofit attachment points on tools and primary anchoring locations - because the majority of tools don't come with them built in. These retrofit attachments can adaptively be applied or "trapped" onto these tools and equipment prior to use.

Anchor attachments should be installed onto locations that are secure and are never intended for heavier tools if applied to the individual. Tool attachments come in a variety of designs based on the tools they are intended for and are available in in one or two step applications.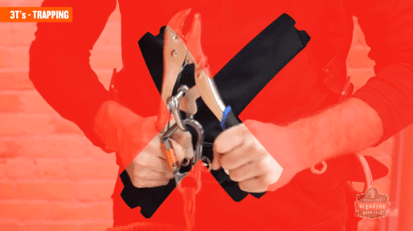 Important: Tool traps should never compromise the integrity of the tool or impede the tool's primary function.
One Step Tool Attachments
Straightforward "traps" that install with a focused application and are typically intended for more specific tools like: Slips that slide onto screw drivers and hex keys; brackets and wraps that fit specific power tools or tape measures; and sleeves that house cell phones are some examples.
Two Step Tool Attachments
Involve two separate solutions combined into one attachment. "Tool Tails" are applied onto a tool and then "trapped" by a tape or shrink to secure them.

Tethering
Tethering is the retention of the tools and equipment being used to the anchor points that hold them. This is often achieved through the use of a tool lanyard. These lanyards should have the proper connections on each end for the tools and anchors being used. They should also be made with a shock absorbing design whenever possible.

As tool tethering has evolved, a variety of tool lanyard styles have surfaced, but most fall into five basic categories:
Wrist Lanyards

Coil Lanyards

Retractable Lanyards

Traditional Lanyards

Specialty Lanyards
---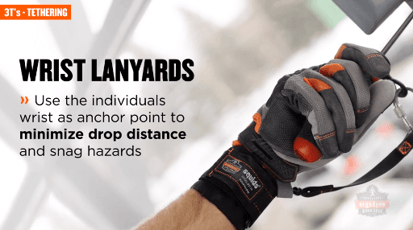 Wrist Lanyards: Using the wrist as an anchor point, these lanyards slide on easy to minimize drop distances (when clearance is low) and snag hazards that can cause issues.

---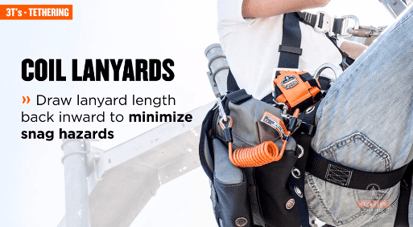 Coil Lanyards and Retractable Lanyards: Designed to avoid snags and hang-ups, Coil and Retractable designs draw the length of the lanyard back inward to keep things neat, tidy and close to the hip.
---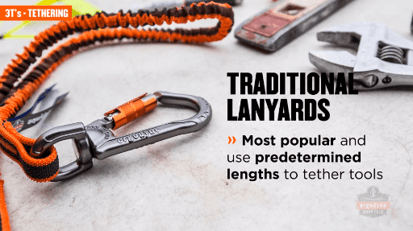 Traditional Lanyards: The most popular option, traditional lanyards use a predetermined length to tether tools. Look for shock absorbing models that reduce the dynamic force on the body or other anchor point if drop occurs.
---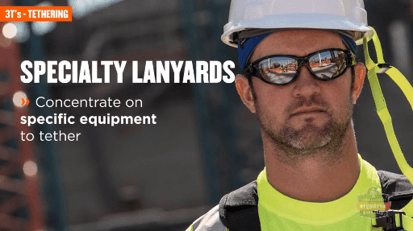 Specialty Lanyards: From hard hats, mobile devices and more, these lanyards concentrate on specific equipment to tether.

---
Topping
The 3rd T, "Topping", consists of the containers workers use to bring tools and equipment to and from heights.

There are two types of containers used: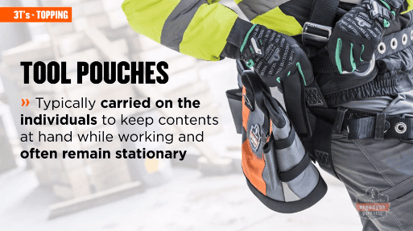 Tool pouches and bags are typically carried on individuals to keep their contents at hand while working. These often remain stationary.
---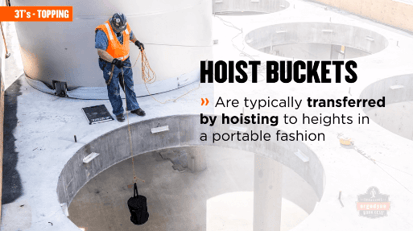 Hoist buckets and bags are transferred by a different means, typically lifting them in a portable fashion to and from heights.

These containers, regardless of type or mode of transportation, should have a secure closure or "top" that can cover contents and prevent them from spilling if tipped.

All containers may have tethering points available to attach tool lanyards, but if a container does not have a secure closure it must have these tethering points available.
Conclusion
When working at height, keeping yourself from falling is always priority number one. Over time, that practice has become standard, and personal fall protection equipment is a common sight. Preventing dropped objects has moved to the forefront recently, and the problem of injuries, deaths, and equipment losses caused by objects falling from height are being directly addressed. A wide variety of simple, easy to implement solutions are available to help mitigate these problems - please take the time to investigate options and find the solution that is right for you.
To see Medsafe's complete lineup of Objects at Height solutions, CLICK HERE. This article was produced and originally published by Ergodyne.
Ergodyne manufactures a huge assortment of equipment designed specifically to prevent dropped objects. For a complete analysis of Dropped Objects and Safety at Heights, CLICK HERE.
---
The Medsafe PPE Guide is Now Available!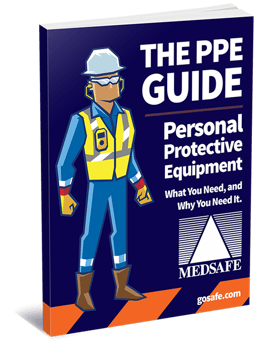 The guide covers six different categories of common PPE, and was created with YOU in mind. The guide has been designed to break down the process of PPE identification and selection, and make selecting products a more straightforward operation.
Each category addresses the relevant regulatory standards in place for both manufacturing and compliance, so you'll know exactly what you need, and why you need it. We also outline the factors to consider when choosing a product, making the entire process less confusing. And finally, we provide links to relevant product categories at gosafe.com, so you can take a closer look, and even make your purchases online.
To download your copy of the Medsafe PPE Guide, click the link below: