Road & Bridge work occurs on a more consistent basis than virtually any other type of construction, and this type of work lends itself often to the need for leading edge fall protection. Over the last ten years, nothing has been hotter in the fall protection market than the twin personal Self-Retracting Lanyard, except for those of the leading edge variety. These devices have taken the market by storm and they have been portrayed as the ultimate fall arrest solution. The appeal of these products is understandable: The prevailing understanding is that they will withstand contact with a sharp, structural edge even if tied off at the feet.

It would seem that these devices have made fall protection a whole lot easier. No longer is there a need to seek out or to create an overhead anchorage. Time can be devoted to managing other risks or reallocated directly to production!
Device Testing
While these devices do undergo the toughest testing that the ANSI/ASSP Z359.14 standard requires, it is important to remember that they are not indestructible. The standard requires four leading edge tests. The dynamic performance test is conducted in two orientations: First in a perpendicular approach to the leading edge, and in the second, a five-foot lateral offset from the anchorage. In both cases, the 282-pound test weight is elevated five feet above, and twenty inches (or more) away from the leading edge. These tests are conducted in the ambient state, and in hot, cold and wet conditions as well. The arresting forces are measured as is the arrest distance, and then the residual strength of the device is evaluated. In the dynamic strength tests, the test weight is increased to 300 pounds, and the dynamic performance test procedures are performed again. The device must arrest the weight and support it for a period of not less than two minutes.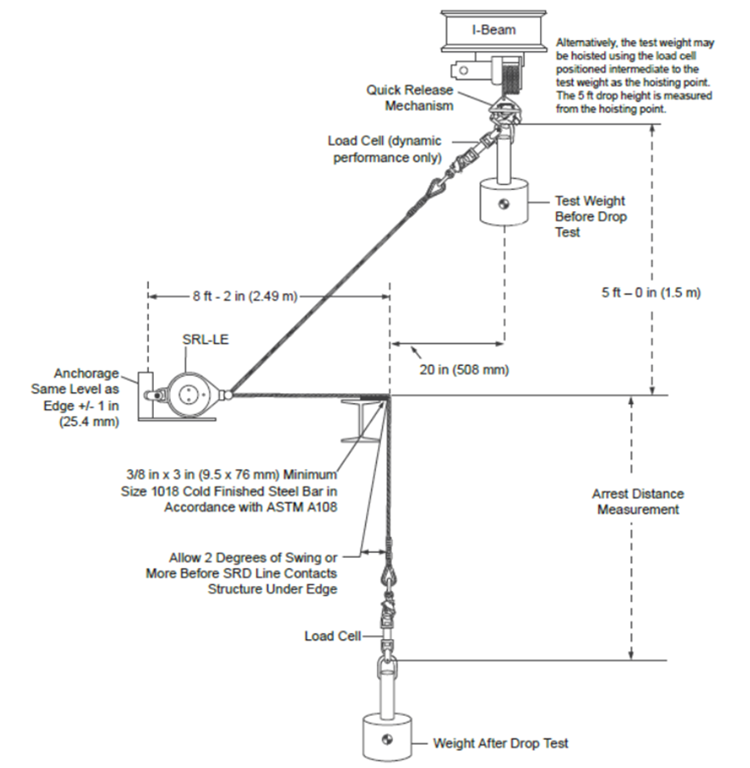 All of the above testing is conducted on a structure to which a 3/8" x 3" steel bar is affixed. The edge radius on the steel bar must be no more than .005". This is the same radius you would find on 8-pound monofilament fishing line, which is not a material that most would consider sharp. In fact, edges of greater severity are often found on structural steel. The simple fact of the matter is that this testing, while severe, does not necessarily ensure that leading edge SRL's are invulnerable.
Heirarchy of Controls
In ANSI/ASSP Z359.2, which is the standard for managed fall protection programs, a hierarchy of controls is established. This first step in the hierarchy is prevention or elimination of the fall hazard, followed by the use of passive systems such as guard rails, netting or barriers. Next is active fall protection systems with a preference for travel restraint over fall arrest. The use of the SRL-LE should be the last resort with respect to a broader hierarchy of controls. In other words, tying off at the foot-level should only occur when there is no conceivable way of establishing an overhead anchorage.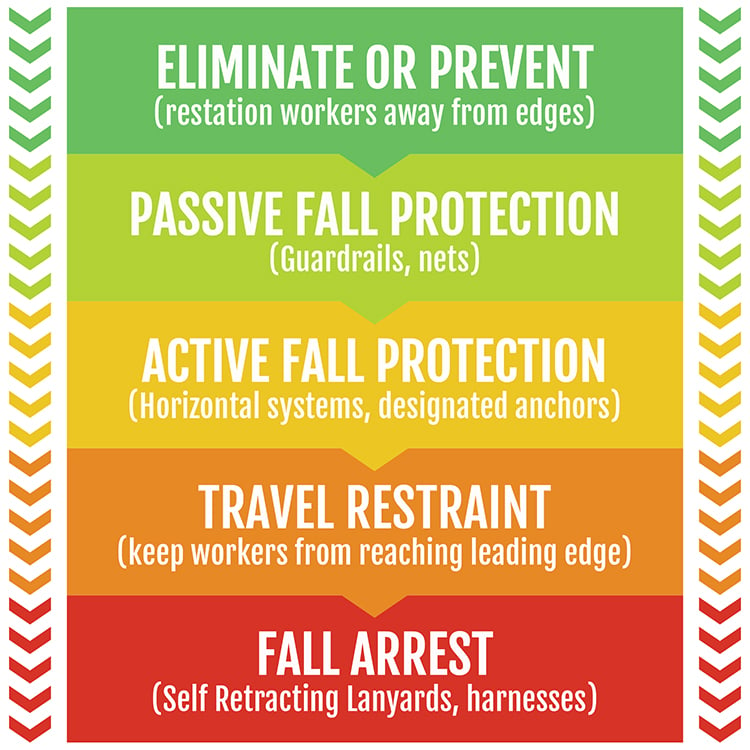 So, for example, in steel erection applications, it would be more sensible and effective to use overhead, sliding beam anchorages or to run a horizontal lifeline between columns in order to establish overhead anchorages and to reduce fall distances. On uppermost elevations, there are plenty of options for free-standing elevated HLL's.
Fall Clearance
Another critical factor to consider in addition to the vulnerability of these devices is the fall clearance required. Most personal leading edge SRL's require 16 – 20 feet of clearance below the walking-working surface in order to arrest a fall. Clearances of that magnitude aren't always available, and in such cases, these devices just aren't going to get the job done.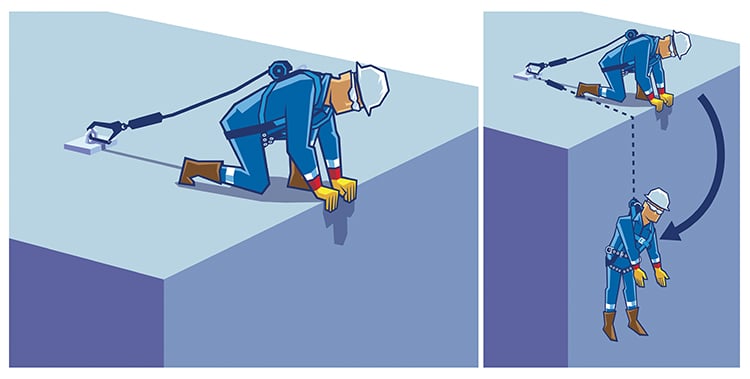 Consider also the likelihood that the falling user is likely to make contact with the leading edge on their way down and that such contact is likely to result in a serious injury. Falls from a leading edge, even if all goes as intended, are going to be exceptionally unpleasant events, and with the tools that we have at our disposal, it is difficult to understand why we would want to go straight for the nuclear option.
Breaking it all down
When we are looking at fall arrest systems, the best thing we can do is to establish elevated anchorages. If we initiate the fall arrest early, we will reduce the forces imparted to the worker and the anchorage, protecting the integrity of both. We will require less deceleration distance. Having reduced both the free-fall and deceleration distances, we will have reduced the overall fall distance, greatly reducing the opportunity to hit a lower level or some object in the fall path.

We must also take the time to visualize our outcomes. If it doesn't look like I have enough room to safely arrest my fall, then I probably don't. When using a leading edge device, I am going to need at least two to three times my height to safely arrest my fall, plus some marginal factor of safety (typically two to three feet). If I don't have that going for me, then tying off at the foot level isn't an option.
Update: Moving the ball forward...
As the market evolves, so do the expectations. It has been six years since the ANSI/ASSP Z359.14 Standard for self-retracting devices has been updated. A great deal of effort has been devoted to creating a meaningful update to the safety requirements for these devices in order to more thoroughly evaluate how they are used in today's workplace. While not cast in stone, Z359.14 is expected to be published in late 2020 with an effective date somewhere in the second half of 2021. Stay tuned for further updates.
This article was authored by Dan Henn, Vice President of Operations, Reliance Fall Protection; Vice-Chairman, ANSI/ASSP Z359 Accredited Standards Committee
---
Are you on the lookout for more information on fall protection use? Visit our FAQ page today! There, you'll find some bonus tips to help get you started.