Facility safety is undoubtedly important. It's never just a one-and-done process either. It's about constantly ensuring that your facility is running smoothly and your employees are working safely. If you're curious about some of the precautions you can take in your workplace, then check out this post on Barriers, Barricades and Floor Tape. Today, however, we're going to focus on floor striping.
Floor striping is one of the easiest, most comprehensive and cost effective ways to keep you and your workers safe. Different colors and patterns help workers understand what each marking means and lets them know what kind of hazard or precautions to anticipate. They're a great way to make large spaces easier to break down and comprehend, as well as enhance visual organization.

Markings should be no smaller than 2" and no greater than 6". Anything smaller than 2" will be difficult to discern and anything greater than 6" is more cost-prohibitive and impractical to apply. Aside from the fact that it's extremely helpful, it's also required. Walking/working surface violations are one of OSHA's biggest violations. Did we mention it's $1,632 per citation?
Yeah, that's gonna hurt your wallet and potentially your workers as well!
OSHA has a number of regulatory codes in order to ensure that facilities maintain safe working surfaces. 29 CFR 1910.22(a)(1) specifically states that the employer must ensure that all places of employment including passageways, storerooms, service rooms and walking-working surfaces are kept in a clean, orderly and sanitary condition. Additionally, 29 CFR 1910.22(a)(3) states that employers must ensure walking-working surfaces are maintained and free of hazards; such as sharp or protruding objects, loose boards, corrosion, leaks, spills, snow and ice. These are just two of the many regulations that must be adhered to. So, you're going to need to make sure you stay up to code and mark your floors, right? Great! But, do you know how? There are several applications which require floor striping.

1. Hazardous Areas
Marking for hazardous areas alerts workers that hazards are present. It's essential to clearly indicate high risk areas such as open electrical panels, dangerous toxins, chemicals or dangerous machinery and equipment.
2. Product/ Material Storage
With the proper markings, workers can find what they need much quicker, ultimately speeding up production. It's perfect for marking temporary locations or even for more permanent solutions.
3. Equipment and Tools
Marking where specific tools and equipment should be placed is a great way to increase productivity. It takes the guesswork out of wondering, "did I put the mop back or leave it out?" If it's not where it's supposed to be, then you might have a problem.
4. Traffic Route
This is probably the most common application for floor marking. Properly marking appropriate walkways and safe zones will keep your facility running smoothly and prevent accidents.
5. Workplace Communication
Floor safety includes marking off areas where operators should stand while operating or directing forklifts or machinery. If something important needs to be communicated, it should be marked.
Alright - so now you know some common applications that require floor striping to enhance facility safety. Now, do you know the right colors for each application? Don't worry - there's a chart for that.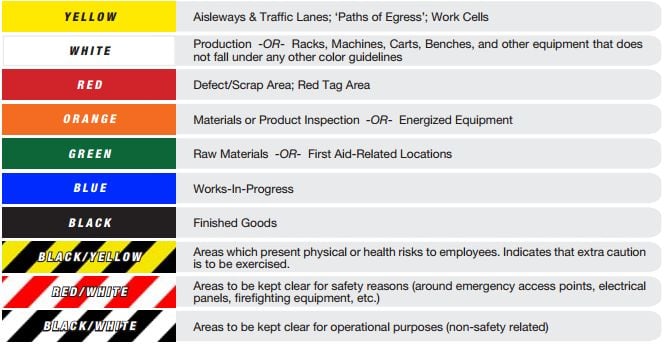 While there is no official government-mandated color chart, these colors are widely recognized by and comply with OSHA and American National Standards Institute (ANSI) codes. Now comes the question: Do you use floor paint or industrial floor tape? Traditionally, industrial floor tape is a more cost effective and longer lasting alternative to paint. Let's compare them.
| | |
| --- | --- |
| Tape | Paint |
| Allows for straighter lines | Tends to chip or fade |
| No dry time | Requires dry time |
| No harsh fumes or lost time | Releases harsh fumes |
| Quick application/ easy removal | Requires chemical/abrasive removal methods |
| Minimal tools for application | Multiple tools for application |
You can see why most users tend to lean towards tape. Taking the right steps to ensure a safe working environment can be quick, painless and consume minimal time.
If you've read this article and are ready to go mark up your floors, check out these solid marking tapes here .

Floor striping instills a sense of organization in the workplace. Properly indicating where finished goods, works-in-progress, defective materials or machinery is located not only helps workers understand where everything is, but also inspires them to keep things clean and organized - improving efficiency in the long run!

Staying in compliance with OSHA's standards isn't just going to help you avoid hefty fines. It'll help keep your facility free of injuries and running smoothly. It's about nurturing a sense of responsibility to keep your workspace safe, clean and efficient. By using markings and organizing the workplace at a glance, it helps the worker focus more on the job at hand and not worry if he or she is unknowingly close to hazardous or dangerous materials.