"Being seen is critical to worker safety"
The above is a quote lifted directly from the current ANSI/ISEA107-2015 standard. Reading this makes one wonder why those words are even included, as this appears to be a clear case of stating the obvious. However - the reality is often that workers who utilize Hi-Vis apparel feel like they are MORE visible than they actually are. As a hazard approaches, a worker wearing a reflective vest will likely assume that operator of the vehicle sees him. Unfortunately, this is not always the case. Conversely, an approaching hazard might not be seen at all until it is too late; as performing a task on a jobsite often diverts attention from any coming traffic. This fact alone makes it that much more important that the Hi-Vis products being employed are actually visible...
'Struck by Vehicle' Hazards
Struck-by hazards are a leading cause of fatal and nonfatal injuries in construction, and have been defined as one of the Focus Four hazards identified by the U.S. Occupational Safety and Health Administration (OSHA). The following statistics from the Center for Construction Research & Training (CPWR) illustrate the serious nature of this issue:
From 2011 to 2015, 804 construction workers died from struck-by injuries, more than any other major industry; 48% were struck by a vehicle.

The majority (57%) of struck-by vehicle deaths in construction occurred in work zones.

19% occurred in non-roadway areas.
Over 20% occurred either in the roadway or on the side of the road.

Most (96%) nonfatal struck-by injuries were from being struck by an object or equipment.

The risk of nonfatal struck-by injuries in construction is nearly double the risk of all industries combined.

Highway maintenance workers had the highest rate of struck-by fatalities, while helpers had the highest rate of nonfatal struck-by injuries.
Struck by Vehicle injuries and fatalities are preventable. The primary hazards faced by workers include the potential for run-over and back-over (the risk is higher at night) and work zone intrusions from passenger vehicles in highway maintenance & road construction. And while there are a variety of technology and standard-related solutions available to combat these issues, being seen is the most critical element.
How Visible Am I?
Obviously, wearing some sort of Hi-Vis apparel is better than no Hi-Vis at all. The diagram below illustrates clearly how much more visible a person using Hi-Vis apparel is to an approaching vehicle at night. Variables such as detection/recognition time, decision/response time, the speed of the vehicle, and the time required to maneuver the vehicle or come to a stop make the case for reflective gear obvious.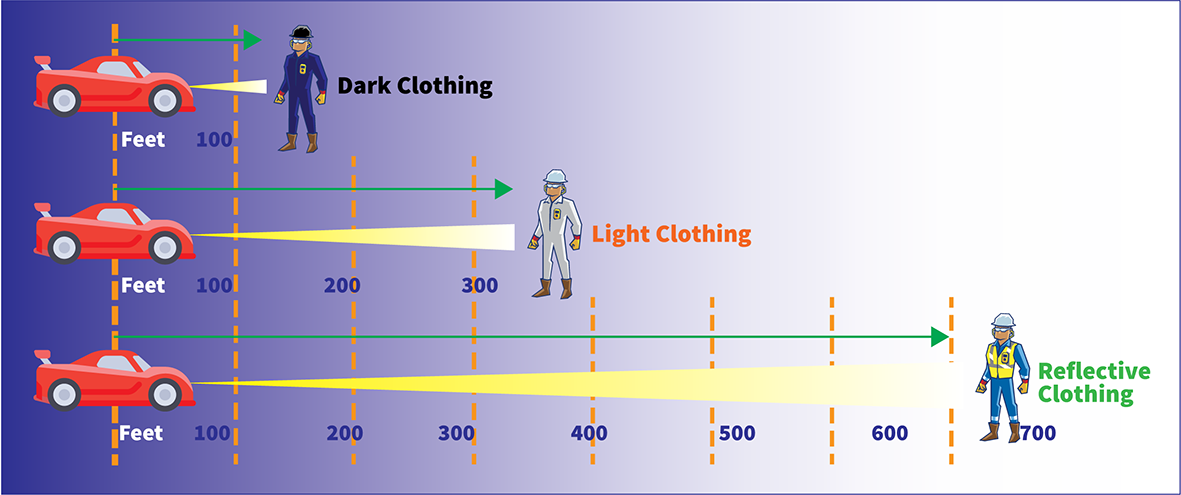 What Color Will Make Me the Most Visible?
Just wearing a vest does not guarantee that you will be visible - and avoidable - in every situation. The false sense of security that often accompanies wearing a reflective vest can be problematic if the right apparel for the job isn't utilized, and if the environment in which the work is taking place doesn't promote worker visibility. Consider for instance the hazard that might result from wearing an orange reflective vest in a road work environment where all the work vehicles are orange, as are the cones, barrels, barriers, and other delineators used for access control. The lack of contrast between objects - and colors - in this scenario could result in reduced visibility.
Does Yellow or Orange Provide the Best Protection?
When comparing the bright yellows and oranges used in safety and reflective gear, many say that yellow appears 'brighter'. When considering just the color of the garment, this is usually true - however, there are other variables to consider:
Conspicuity refers to an object's ability to attract the attention of an observer. This is important in complex environments with objects that compete for a viewer's attention (a crew doing roadwork on the corner of a busy intersection, or a first responder at the scene of an accident). The objective of hi-vis apparel is to ensure the conspicuity of individuals like this through both contrast and recognition.
Contrast Promotes Detection. Detection is promoted by using fluorescent colors against contrasting backgrounds, as well as by combining high contrast colors in one item of apparel. For instance, the combination of fluorescent yellow and black in a hi-vis vest creates a high contrast that will likely stand out against a competing background.
Recognition Creates Conspicuity. People often respond subconsciously to specific colors - and use of those colors can lead to instant recognition of workers and equipment by drivers. And while fluorescent yellow is often perceived as 'brighter' (it's also brightest on the chromaticity scale), orange hi-vis PPE has strong recognition as an identifier of hazards. It's wide use in road construction signs and warnings, cones, and barrels help to associate it with road work, and often elicit an automatic 'slow down' response from drivers. It's use by the hunting community has helped drive recognition as well. As one of few colors that do not occur naturally in the forest, hi-vis orange apparel has proven to be an ideal way for keeping hunters safe and visible in environments with competing backgrounds.
Hi-vis fluorescent yellow is the most widely used of the two colors, and is the brightest, most visible color during daylight hours, as human eyes are built to be most sensitive to that particular wavelength (@550 nanometers) during the day. But as dusk sets in and lighting gets dim, orange-red and red start to become more prominent. This has to do with the fact that your eyes rely on both rods and cones to see colors, that it uses them in different combinations depending on ambient light levels - and that rods and cones are more sensitive to different wavelengths of light. It's worth noting that just as hi-vis orange is associated with construction and roadwork, hi-vis yellow has become associated (along with construction) runners and cyclists on streets and sidewalks, as that color has been widely adopted into apparel made specifically for those activities.

Best Practices for Being Seen
Struck-by-vehicle incidents are far too common, and in many cases, avoidable. To ensure your safety, follow these best-practice tips:
Use high visibility apparel when working in an area that requires it. No exceptions
Use the correct Type and Class vest for the specific job you are performing. Using the wrong type of equipment can result in reduced visibility (for more on Hi-Vis Types & Classes, download Medsafe's PPE Guide).
Situational Awareness. Be conscious of your position within a work zone, the time of day, and any obstructions that could prevent your being seen by approaching vehicles. Remember the variables that drivers must deal with when approaching a work zone, and never assume that just because you are wearing a vest, you are visible.
Be Conspicuous. Use high contrast colors and colors that are associated with the type of activity being performed.
CLICK HERE to see the full selection of Hi-Vis Apparel available from Medsafe.
---
The Medsafe PPE Guide is Now Available!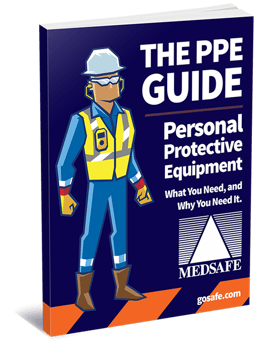 The guide covers six different categories of common PPE, and was created with YOU in mind. The guide has been designed to break down the process of PPE identification and selection, and make selecting products a more straightforward operation.
Each category addresses the relevant regulatory standards in place for both manufacturing and compliance, so you'll know exactly what you need, and why you need it. We also outline the factors to consider when choosing a product, making the entire process less confusing. And finally, we provide links to relevant product categories at gosafe.com, so you can take a closer look, and even make your purchases online.
To download your copy of the Medsafe PPE Guide, click the link below: