In your workplace, emergency eye wash stations are there for when an accident occurs - and what's more important than your eyes? It only takes 10 to 15 seconds for permanent damage to happen. When a person is exposed to a hazardous or corrosive substance, the timing is even more critical because serious eye injury can occur.
OSHA's primary regulation concerning eye wash and shower stations can be found in 29 CFR 1910.151. This mandate states:
"Where the eyes or body of any person may be exposed to injurious corrosive materials, suitable facilities for quick drenching or flushing of the eyes and body shall be provided within the work area for immediate emergency use."
Once you have your eye wash station in place and set up, there are a few other important maintenance tasks to keep in mind. Below are some helpful areas to check regularly to make sure you are being as safe as you can be.
Eye Wash Station Requirements
Eye wash stations have to be able to deliver the solution to both eyes at the same time, at a volume that is at least 0.4 gallons per minute (1.5 liters per minute) and for a time period of at least 15 minutes. If you have a unit that is a combo of an eye wash station and a face wash station, those have to be at a rate of 3.0 gallons per minute (11.4 liters per minute), but not at such a high velocity that injury can occur to the eyes. These have to be between 33 and 53 inches from the floor and six inches from the nearest obstruction, such as a wall. That may sound like a lot of numbers and gibberish, but it is an exact science that protects the eyes.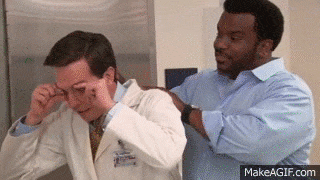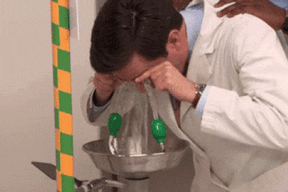 There has to be enough room for the user to be able to have their eyes in the fluid, while being able to open their eyelids with their hands. Yes, we know, more rules; but it's all about protecting your most precious asset.
Solution Changing
The solution that is used in the eye wash station typically lasts about 120 days before it needs to be changed and this is even with preservative and clean water. If it looks clean, but has been 120 days - change it anyway.
With user-filled eye wash stations, the maintenance is fairly easy and the cost is relatively low. These types of eye wash stations are also perfect if you know that the station may be used for non-emergency type situations.
The user-filled eye stations are also ideal for areas where the wash station may be used quite often. Why these work great is that they simply need a minimum amount of solution like Eyesaline so that they can be used for the required 15 minute minimum.
The flushing times vary depending on the contaminant, but a good guide to go by is:
Five minutes, or so, for mild irritants or those contaminants that are non-irritants
15-20 minutes for irritants that are moderate to severe, or those types of chemicals that when absorbed through the skin can cause acute toxicity
30 minutes, or more, for irritants that are corrosive
60 minutes for irritants such as potassium, sodium, or calcium hydroxide that are strong alkalis
Eyesaline is recommended, because it is a sterile and soothing saline solution that works for self-contained units and comes in a 32 ounce size that is affordable and easy to use.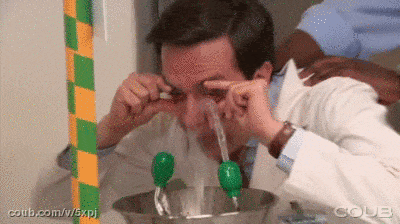 Weekly Checklist and Eye Wash Station Maintenance
There are a few things that need to be done each week to check for the functionality of the eye wash station and to comply with ANSI Z358.1-2014 standards. These include, but are not limited to:
All pathways to the eye wash station must be free from obstructions that might hinder someone getting there within seconds - you don't want someone tripping over a box, while trying to get to the eye wash station. It may be funny if it was a skit you watched on television, but in real life people's lives depend on this type of thing
Eye wash station must be accessible within 10 seconds from the hazard area and on the same plane as the hazard area
Eye wash station must be kept safe from freezing conditions
Make sure eye wash station does not have any sediment and that the plumbed equipment is activated
Eye wash station does not have any missing parts or parts that are broken or non-functional
Eye wash station is not too hot so that it scalds the user - it's pretty useless if it is meant to flush out the eyes and instead, boils them in your head
Check the self-contained equipment to ensure that the solution is enough to use for 15 minutes and is within the 120 day replacement period
A Few Things to Keep in Mind
There are other maintenance issues to keep in mind when installing an eye wash station and when doing a yearly inspection. For obvious reasons, these are things that should be addressed even during weekly preventative maintenance tasks. Quite simply, just because it's not on the to-do list, it doesn't mean you can ignore something that isn't working correctly.
The eye wash station must allow user to activate it without using their hands
Check shut off valves to ensure that there is no way that an unauthorized shut off can happen. You don't want someone to lose their eyesight, because "Chad" turned off the shut off valve, do you?
Make sure the solution is at a temperature between 60 – 100°F, which is considered tepid. However, there are some instances where a chemical reaction is hastened by a certain temperature of water. If your building has these types of chemicals, then it should be addressed to ensure the proper temperature of water for your needs
Make sure that the fluid in the eye wash station is dispensing as it should within the required pattern
Check the valve(s) and ensure that they have the ability to activate within one second and stay open until it is turned off intentionally
Make sure valves are not corroded and are resistant to corrosion
Ensure that valves cannot be exposed to freezing temperatures
Maintenance checklists are simply a guide that means they are the bare minimum requirements. For instance, the yearly checkup does not mean you can just stop there. It's a good idea to check regularly and fix what may not be working properly. Any defects or damage to the equipment should be addressed immediately.
Need more eye wash station information? Check out another eye wash station blog article from Medsafe here.