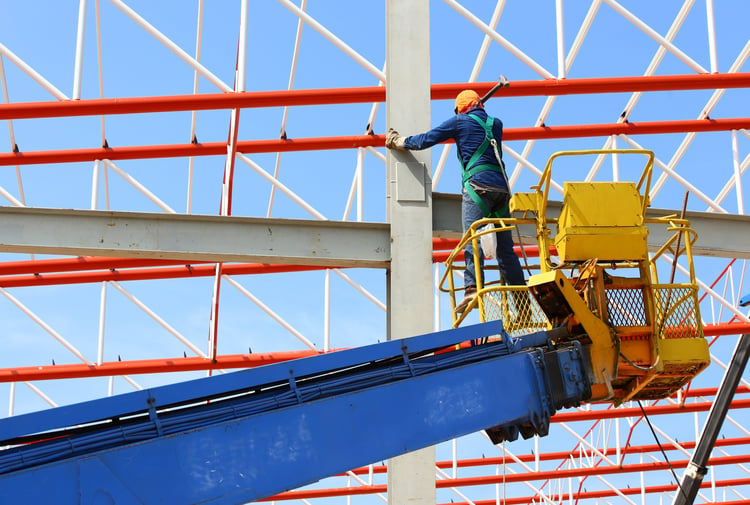 Do you have employees who work from aerial lifts? Scissor lifts and boom lifts are common in many industries. Construction, maintenance, and utility workers use them the most; they can also be used to transport employees from one floor to the next - but for the most part, they are used as work platforms to access hard-to-reach places.
It is common for workers to have a variety of tools and equipment on the platform with them. If not secured properly, those items can turn into a deadly hazard: Dropped Objects.
Dropped objects accounted for 255 workplace fatalities in 2016. Countless others were injured. Obviously, a fatality is reason enough to double-check your company's dropped objects program - but injuries and near misses can have a significant impact as well, primarily in lost time.
Consider the time it takes to investigate these types of incidents. Combine the number of days that it can take for an employee to recover from an injury with the paperwork involved. Add in the worker's compensation process; and as incident rates go up, in all likelihood so do your insurance premiums.
What measures do you have in place to make sure dropped object incidents don't occur at your facility?
Dropped Object Hazards
A dropped object gains momentum as it falls. This acceleration increases the level of force that is distributed upon impact. Even something as small as a tape measure is enough to cause a fatality. Incidents such as this are documented; in November 2014 a construction worker was killed as the result of a tape measure dropped from height . Read the full story here.
The same thing can happen with other objects and materials, such as:
Nuts
Bolts
Buckets
Hand Tools
Power Tools
Construction Material
There are several OSHA standards that require all tools, materials, and equipment be secured when not in use.
Standard 1926.451(h)(1)

states that all scaffolding must include toeboards, screens, or guardrail systems to protect workers from dropped object hazards.
OSHA's general duty clause and various housekeeping standards also apply to these situations.
Dropped objects can happen from anywhere on a worksite. Scaffolding, lifts, and upper levels of construction sites are all potential sources. One area in particular, however, seems to have a higher risk of occurence than others.
Dropped Object Hazards : Aerial Lifts
Aerial lifts are often used to transport both equipment and workers. There are a variety of styles available, but most are rated for two employees. The man baskets are typically spacious enough to move around in, but when factoring in all the fall protection equipment, buckets, tools, and other materials being used - space is at a premium.
For two workers in the same basket, performing job functions means working around one another - and the equipment in the lift. Under these conditions, accidentally dropped objects are not uncommon.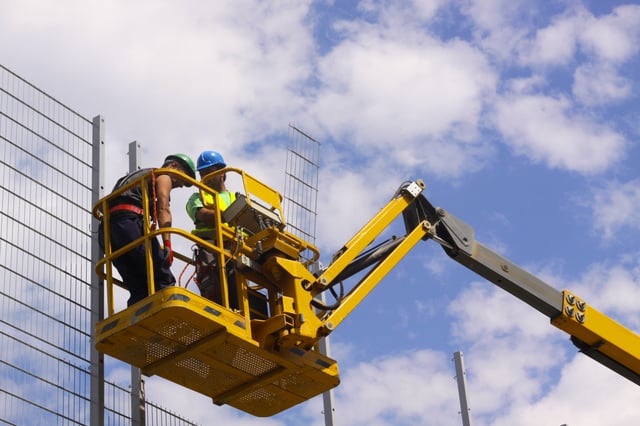 Toeboards are a required feature on all aerial lifts. While the common perception of the toeboard's purpose is for fall protection, it is actually there to prevent objects from falling off the platform.
At 3.5" in height (on most aerial lifts), toeboards will only prevent small objects on the floor from being knocked over. Anything larger than that is still at risk for falling from the lift.
Aerial lifts are most often used by construction workers, maintenance personnel, and utility workers. These employees typically have tools and materials with them, and are performing their work from inside the confines of the basket.
Inside the man basket :
Space is limited, requiring occupants to step around any objects on the floor. Both occupants are wearing fall protection equipment. Work is commonly performed on surfaces or objects that are overhead. Common scenarios require occupants to reach over the handrail to access whatever is being worked on. In many cases, employees are required to wear gloves as well, making it difficult to handle tools and equipment with precision.
All of these factors contribute to a higher level of risk for dropped objects from an aerial lift.
Aerial lifts can be a challenging place to work. For more information on lifts and their hazards, check out this recent post.
Preventing Dropped Objects
The good news is that there are numerous ways to reduce the risk of dropped objects at your worksite. Education and trainingare essential, but the most effective solutions are products that are specifically designed to mitigate the risk.
The best way to prevent dropped objects is to use a combination of active and passive safeguards. Active safeguards are items like tool bags and tethers - things that can actively secure tools. Passive safeguards are installed items that prevent objects from becoming a hazard - things like toeboards, screens, and netting.
Securing Tools
Anyone working in an aerial lift should utilize a toolbelt or tool bag - something that can store tools that aren't actively being used, but keeps them accessible. Not only will this help prevent dropped objects, but it will also help to keep the platform floor free of trip hazards.
Tool tethers and lanyards are another good way to secure objects. These devices can attach to harnesses, tool belts, and even an employee's wrist. A variety of models are available - coils, retractables, and flexible webbing are popular choices. Tethers vary in length as well, but will always limit the distance an attached object falls enough to protect anyone who's working below.
Passive Safeguards
Screens, netting, and catch platforms are all acceptable forms of dropped object prevention. Toeboards are the minimum requirement for aerial lifts; but as discussed earlier, toeboards provide only a minimal degree of dropped object protection.
A product that encapsulates the lift basket and prevents any objects from falling is an ideal solution. By design, these products keep objects and debris contained within the lift. They quickly attach to the outside of the lift, encompassing the basket - including underneath - while still allowing access to the basket and lift controls. With a system like this installed, the entire lift is enclosed and protected, and all objects are contained within the basket. The TUTUS Dropped Object Prevention System (D.O.P.S.™) provides complete protection from dropped objects, and available models are sized to fit over 50 models of boom and scissor lifts from numerous major manuafacturers.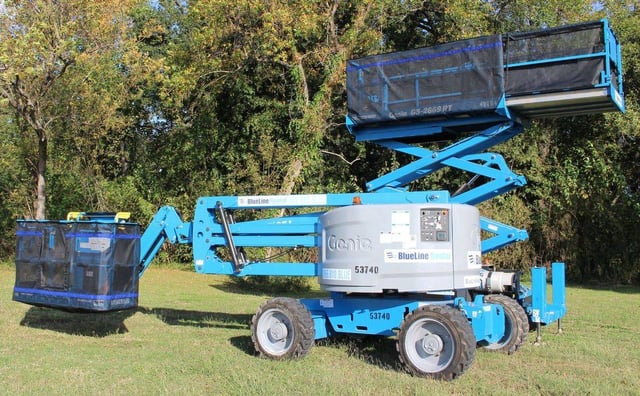 The D.O.P.S.™ system will reduce the vast majority of dropped object scenarios, while providing peace of mind to both the workers in the basket, and those down below.
More Information
Aerial lifts are a common source for dropped objects. Construction, maintenance, and utility workers often perform job functions from inside a lift. It is important to have the proper safeguards in place so that if an object is dropped accidentally, any workers below are still protected.
Other safety factors are relevant in these scenarios. Most job sites require the use of a hardhat, and OSHA mandates it any time there is a risk of objects falling from overhead. Equipping your workers with the proper PPE can also help reduce the risk of dropped-object injuries. Click here to download a Tool Tethering guide from Medsafe and Ergodyne that outlines different methods for tethering a variety of commonly dropped objects.
The right products can make all the difference.