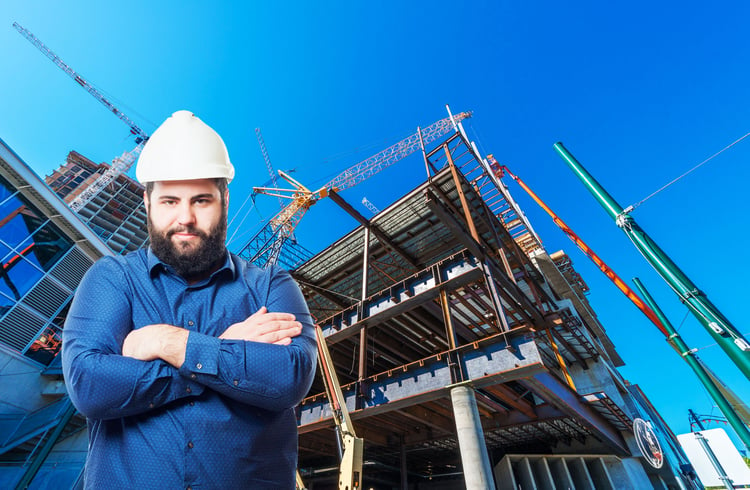 Wearing fall protection probably isn't your favorite thing to do. But you know how important it is. It can literally save your life. So you put it on, and you get the job done. But how do you know that what you're wearing is the right equipment? There are a lot of factors that go into choosing a harness. Comfort, durability, and use are the main ones. And for some of us, there's something else too: weight limit. Are the big guys on your job site wearing the right stuff? Let's find out.
OSHA Requirements
It's important to understand the OSHA regulations around fall arrest systems. Did you know that there are weight limits for fall protection equipment? In general, OSHA and ANSI allow for a maximum capacity of 310 lbs for fall arrest systems. That weight limit includes the weight of the employee, their clothing, tools, and equipment.
The standards listed below outline some additional requirements related to fall arrest systems.
1926.502(d)(16)
Personal fall arrest systems, when stopping a fall, shall:
1926.502(d)(16)(ii)
limit maximum arresting force on an employee to 1,800 pounds (8 kN) when used with a body harness;
1926.502(d)(16)(iii)
be rigged such that an employee can neither free fall more than 6 feet (1.8 m), nor contact any lower level;
1926.502(d)(16)(iv)
bring an employee to a complete stop and limit maximum deceleration distance an employee travels to 3.5 feet (1.07 m); and,
1926.502(d)(16)(v)
have sufficient strength to withstand twice the potential impact energy of an employee free falling a distance of 6 feet (1.8 m), or the free fall distance permitted by the system, whichever is less.
Note: If the personal fall arrest system meets the criteria and protocols contained in Appendix C to subpart M, and if the system is being used by an employee having a combined person and tool weight of less than 310 pounds (140 kg), the system will be considered to be in compliance with the provisions of paragraph (d)(16) of this section. If the system is used by an employee having a combined tool and body weight of 310 pounds (140 kg) or more, then the employer must appropriately modify the criteria and protocols of the Appendix to provide proper protection for such heavier weights, or the system will not be deemed to be in compliance with the requirements of paragraph (d)(16) of this section.
As you can see here, OSHA does allow for an exception to the 310 lb rule. However, the employer must be able to prove that "equal protection" has been provided to heavier personnel. It might take some extra time and money to get the right equipment. But if your big guys need to wear fall protection, you need to make sure you're giving them the right stuff.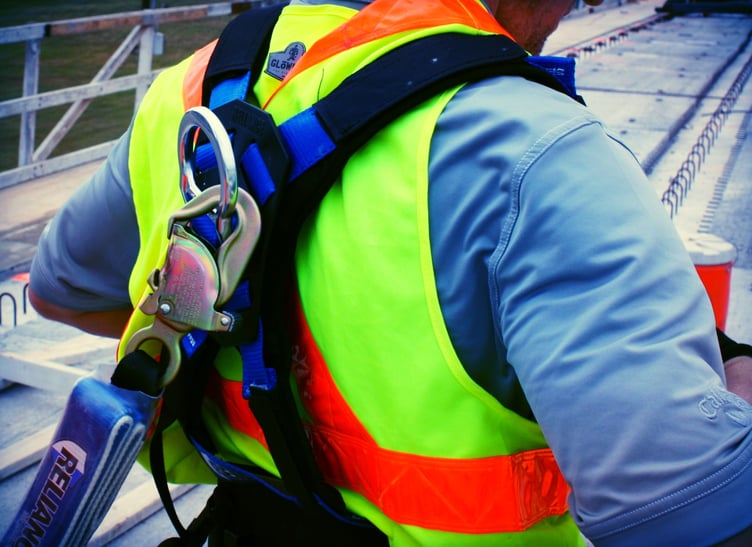 Fall Protection for Big Guys
How much weight can your harness support? Many manufacturers will claim that their harnesses are rated for 400 lb workers. And while that may be true, you need to dig a little deeper before assuming that the heavier harness will sufficiently protect your employees. Learn more about how to choose the right fall harness with our "Ultimate Guide to Choosing the Right Fall Harness."
Why? Because the harness isn't the only factor you need to consider when purchasing equipment for the big guys. In fact, there's something else that's even more important than the harness: the lanyard.
You see, the problem comes into play when the big guy takes a fall. Because of the extra weight, more force is going to be put on the lanyard during a fall. So if he were using a regular lanyard, even with a high capacity harness, it might not be strong enough. The lanyard could snap. That, or it wouldn't decelerate the fall sufficiently.
OSHA's rule about limiting the maximum arrest forces to under 1800 lbs still applies. That's why all of your fall arrest equipment needs to be rated for higher capacity. Including:
Energy absorbing lanyard / self-retracting lifeline
Full body harness
Anchor points
Other connecting devices (such as carabiners)
Reliable Equipment
Fortunately, you do have options available to you. Some manufacturers have started to produce fall arrest equipment that's rated for higher capacities. For instance, the harness you see below is designed for larger employees. It's larger in size, and is rated for heavier employees.
Ironman™ Lite Fall Protection Harness

(comes in "big boy" sizes)

BigBoy™ 440 lb. Capacity Shock Absorbing Lanyard
The lanyard pictured above is rated for a total capacity of 440 lbs. With this type of lanyard, a heavier employee will still be sufficiently protected. If a fall were to occur, the lanyard would absorb enough energy to keep the maximum force under 1800 lbs.
When used properly, these two pieces of fall arrest equipment could combine to create the ultimate solution for your big guy's fall protection needs. You'll need to make sure your anchor points and any additional accessories are rated for high capacity use, too. But as for PPE, we've got you covered.
Other Factors to Consider
One of the reasons that OSHA and ANSI are hesitant to update their weight limit rules is because of the risks not only associated with a fall, but of the additional risks of suspension trauma.
Suspension trauma is something that can affect fallen workers of all sizes, regardless of their weight. The trauma occurs when employees are suspended for a period of time and are unable to maintain proper blood flow to and from their extremities. This is why employees are taught to pump their legs after a fall, until they can get down. Heavy employees are at greater risk of suffering from suspension trauma.
Another cause for consideration is that it can be more difficult to rescue a fallen worker who is above the 310 lb weight limit. Most rescue plans involve the use of ladders, mobile equipment, or other access devices. If an employee is unconscious and unable to help get himself down, it can be dangerous for both the rescuers and the suspended employee (might take longer, increasing their chances of developing suspension trauma). For more information about suspension trauma, read our blog, "Suspension Trauma: The Danger of Fall Arrest Systems."
However, if proper equipment and training is provided, and if a sufficient rescue plan is put into place, there should be no reason that a heavier employee cannot safely use and wear their fall protection equipment.
Purchasing Fall Protection: Don't Forget About the Big Guys
When it comes to purchasing PPE for your employees, take the time to understand exactly what they need. Choosing the right equipment can mean the difference between life and death.
Comfort, durability, and use are important factors to consider when choosing a harness. But so it weight limit. Remember to take into consideration the extra weight from clothing, tools, and other equipment.
And don't forget to purchase a high capacity lanyard too.
Visit our FAQ page for additional questions about fall protection equipment. You'll find answers to your other PPE and fall protection questions there.