According to the Bureau of Labor Statistics, hand injuries are the second most common form of injury sustained in the workplace. And in a recent US Department of Labor study of all injures reported, injuries to fingers and hands accounted for more than 23% - making them the highest in preventable injuries. In terms of lost work days, they ranked second only to back and neck injuries. Of injuries reported, a large majority of the employees who suffered hand injuries were not wearing ANY gloves at the time - and many of those injured who were wearing gloves were wearing the wrong KIND of gloves.
As a result of non-compliance, data from the Bureau of Labor statistics confirms that hand injuries have more than doubled over the last few years. And according to a recent OSHA study, over 70% of hand and arm injuries could have been prevented through the use of Personal Protective Equipment (PPE), specifically safety gloves.
Statistics to Consider
Of the incidents reported, 70 percent of workers who experienced hand injuries were not wearing gloves
Of the remaining 30 percent, glovers were worn, but were either inadequate, damaged or the wrong glove for the type of hazard present
More than one million workers are sent to the emergency room each year for hand injuries
There are over 100,000 lost-time hand injuries reported annually
When combining the direct cost of hand injury treatment with worker's compensation claims and lost time, the cost of one preventable incident could conceivably exceed the cost of a comprehensive hand protection program
Current Hand Protection Standards
Currently, the ANSI/ISEA 105-2016 standard addresses cut, abrasion, tear, and puncture resistance and performance; as does the European standard EN 388. And while EN 388 does address impact protection, it does not do so in a comprehensive manner. ANSI/ISEA did not address impact performance at all - until now.
The ANSI/ISEA 138 Impact Standard became effective in February 2019. It establishes the minimum performance, classification and labeling requirements for gloves that are designed to protect the knuckles and fingers from impacts. This will help safety professionals make better-informed decisions about glove selection – ultimately keeping more people safe on the job.
Why is there a need for Impact Protection?
Impact protection can help mitigate a variety of potential on-the-job hazards, including:
Being struck by moving, swinging, flying, or falling objects

Heavy material handling and load moving

Broken connections from high pressure lines

Improper use of damaged tools that have the potential to break apart

Close quarter work where pinch points are common

Rig site clearing in the oil & gas industry

What does the Standard accomplish?
ISEA 138 includes four key requirements:
It defines an agreed-upon testing method for a glove's level of impact protection

It includes three very clearly-defined performance levels

It specifies a pictogram-style marking for each of the 3 levels of compliant gloves

It requires that products be tested in a laboratory with a certificate of accreditation meeting the requirements ISO/IEC 17025:2017, General requirements for the competence of testing and calibration laboratories
Specifically, the standard establishes the "minimum performance, classification and labelling requirements for hand protection products designed to protect the knuckles and fingers from impact forces, while performing occupational tasks."

The testing that gloves must undergo is rigorous, and the standard defines the testing requirements, equipment, and methods to be used. Also included are the requirements for preparation of samples and conditioning of the gloves. The standard also defines specific test locations for the knuckles, fingers, and thumbs, and requires that the locations be marked on the outside and back side of the glove.

How does the Impact Test work?
One pair of gloves is required per test. The gloves are cut in half and the back-of-hand is placed on an anvil. A 2.5kg mass with force of 5 Joules is dropped on the required back of hand finger and knuckle locations. The amount of force transferred through the glove's back of hand is recorded with a force gauge that is connected below the anvil.
The ISEA 138 will test two areas for impact performance: knuckles, and fingers/thumb. On both gloves, knuckles are tested four times and fingers/ thumb are tested five times.
The average of the knuckle tests are compared to the average of the ten finger tests. The highest average of the two is the final impact testing score. The chart with glove markings above showcases the performance levels, with "Performance Level 3" being the highest. A classification of 3 means that a glove offers the most protection, while a classification of 1 means that a glove offers the least: a higher performance-level rating indicates a greater degree of protection, meaning that less force is transmitted to the wearers hand.
According to the standard, "the overall performance level of a glove reflects the lowest performance level recorded, so that if the fingers and thumb meet level one but the knuckles level two, the glove will still be rated as performance level one." The last part of that statement is critical, in that it will prevent a manufacturer from increasing protection only on one portion of the glove (knuckles as opposed to fingers), as it is only a complete, well-rounded glove that will achieve higher test scores.


A classification of 3 means that a glove offers the most protection, while a classification of 1 means that a glove offers the least: a higher performance-level rating indicates a greater degree of protection, meaning that less force is transmitted to the wearers hand. Level 1 translates to ≤9kN of force transmitted to the wearer's hand; Level 2 is ≤6.5 kN, and Level 3 is ≤4kN.
Important Considerations
The ISEA 138 standard is voluntary at this point - although there is no guarantee that it will stay that way. If history is an indication, it is highly likely that this standard will eventually become mandated. A manufacturer's willingness to fully comply with the standard should be a good benchmark to consider when choosing an impact protection glove. Voluntary testing ensures compliance with established standards; with the ultimate goal being the safety and well-being of end-users. Consider the following quote:
"Unlike Europe, there is no governing or policing body in North America. There are strict ramifications in the EU if your products are not tested or if test results are falsified. That's why, in North America, it's up to reputable manufacturers to publish as accurate as possible performance claims (using voluntary ANSI testing methods) and to hold the unethical companies accountable for misrepresenting protection scores. Because ultimately, by not honestly reporting scores, companies are putting workers in danger and at risk of injury. Everyone loses."
– Ron Henion, Director of Product Development – HexArmor
Not all manufacturers are testing to this standard as of yet - but Medsafe carries products from vendors that are one step ahead of the rest. For a listing of gloves that have been tested to ISEA 138, CLICK HERE to visit Medsafe's website.
---
The Medsafe PPE Guide is Now Available!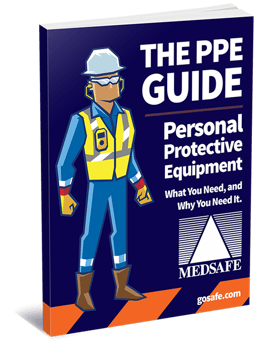 The guide covers six different categories of common PPE, and was created with YOU in mind. The guide has been designed to break down the process of PPE identification and selection, and make selecting products a more straightforward operation.
Each category addresses the relevant regulatory standards in place for both manufacturing and compliance, so you'll know exactly what you need, and why you need it. We also outline the factors to consider when choosing a product, making the entire process less confusing. And finally, we provide links to relevant product categories at gosafe.com, so you can take a closer look, and even make your purchases online.
To download your copy of the Medsafe PPE Guide, click the link below: